Here are the things that volunteers do here at First Light. Our current needs are listed on the next page, although you are free to apply to volunteer for any of these opportuntities at any time. We'll keep your application on file and contact you when we have a need that you are interested in filling. Thank you so much for your interest!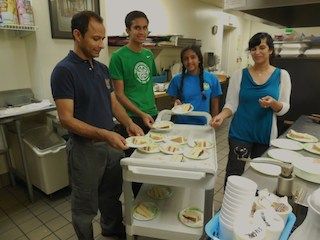 Serve Breakfast

Small groups can bring and serve breakfast at First Light! This involves bringing the meal for 60-70 individuals, preparing and serving it from 6:30-7:30am during the week and from 7:30-8:30am on the weekend. First Light has a fully functional commercial kitchen as well as paper products and many condiments. The number of servers needed varies depending on the menu (i.e. serving pastries and fresh fruit? 1-3 volunteers needed; Preparing a hot breakfast with several dishes? You may need up to 6 total volunteers.)

Serve Dinner

Small groups can bring and serve dinner at First Light as well! We have 60-70 total guests each night and dinner is served at 6:30. We have a fully functional commercial kitchen as well as paper products, drink mixes and some condiments. The number of servers needed varies depending on the menu, but generally a group of 3-6 people is ideal. The dinner calendar fills up very quickly- we're blessed with several faithful volunteer groups!

Stay Overnight

Volunteers spend the night at First Light every night of the year. This involves coming in at 7pm, handing out toiletries and hygiene products to the guests in the emergency shelter, and making sure the routine is kept each night. A guard covers the front desk all night, so overnight volunteers generally sleep through the night in their own private room (with bathroom). Volunteers may leave the following morning as early as 6am during the week and 7am on the weekends. This is one of the most rewarding volunteer opportunities we have! The average overnight volunteer spends the night once every few months.

As you can understand, females are preferred for this position as our guests are changing into night clothes and taking showers in the dorm room, which is connected to and visible from the volunteer room. Some female volunteers bring a male along with them, but all men are asked to remain in the volunteer room during their overnight stay.

Fun Activities

During the colder months of the year, many of First Light's guests don't leave the shelter much during the day. We enjoy having volunteers some afternoons to play games with the guests, bring a fun and uplifting movie for them, throw a holiday party (think Halloween, Christmas, New Year's Day, Valentine's Day, 4th of July !), paint nails, or bring a fun craft! Because of low participation, we generally do not schedule these activities during the spring or summer.

Serve on Special Event Committees

First Light is a 501(c)3 nonprofit. Our income comes mostly from donations, grants and special events. We do 2 main fundraisers each year: an annual Gala and Holiday Lights in November and December. The Gala requires significant committee participation! If you are good at planning events, soliciting donations and sponsorships, decorating, graphic design, marketing, or working with A/V, WE NEED YOU on a special event committee! Our Young Partners Board started a "Dancing with the Stars" event in the Fall of 2016. They invite local celebrities or high profile individuals to prepare a short dance routine and the dancers promote and invite financial contributions as "votes" for them.

If you are at all interested in serving on our board of directors, serving on a special events committee could be the perfect segue!

Special Event Volunteers

Special event volunteers make our special events possible! At the gala, we need volunteers to set up and clean up, work the check-in and check-out tables, monitor auction items and games, and do numerous other important jobs. Special events are a great way to represent First Light well, help us generate much-needed revenue, and have a blast doing it.

Check our Events section for the next scheduled Gala or Dancing with the Stars.

Supply Drives

First Light serves between 60 and 70 people a day. Most, if not all of those, are adults. We rely on donations of hygiene products, toiletries, over-the-counter medicine, undergarments and many other items. One way to help meet these needs is to host a supply drive at your church, office, civic club meeting, or neighborhood. Get creative! Host a drive for toothpaste and toothbrushes on National Dentist Day. Host a drive for laundry detergent during National Laundry Week- yes, these actually exist! Host a house-warming party for a guest moving into permanent housing- you can have fun volunteering! Have a birthday party and ask guests to bring in-kind or cash contributions for First Light instead of gifts for you--several children and teens have done this!

Third-Party Fundraisers

Sometimes, individuals and groups get together, come up with a creative fundraising idea, and then do it! Significant funding can be raised for First Light with a good idea and some coordination. Please contact us at 205-323-4277 if you have an idea- we'd like to walk with you through the whole process!

Bulletin Board Artists

We love for a small group or an individual to come and redo our bulletin board as seasons change. The bulletin board is located in the day room, which also serves as the dining room and the overflow shelter. Ideally, we like the bulletin board to be pretty and feature something inspirational and motivating. Sometimes people will decorate the bulletin board for the football season. Sometimes people will decorate it for Thanksgiving or Christmas. Sometimes people will decorate it for spring- you get the idea! This is a great activity for a class or a family.

Home improvement-the patio

The shelter moved into this location 11 years ago after 17 years in the basement of First Presbyterian Church. We strive to provide a clean, bright, safe environment for our guests and a nice patio where they can relax and enjoy fresh air and a little nature in the heart of the city. From time to time there might be a need for new picnic tables on the patio, new plantings in the flower beds or a little "sprucing up." If you have a green thumb or want to make a nicer space on our patio let us know.

Spring (and Fall) Cleaning

A couple of times a year, we would love for small groups to come in and do the kind of cleaning that isn't done on a daily basis: wipe down the blinds, clean baseboards, scrub walls, etc. While this isn't a very glamorous job, it certainly helps us to provide a clean, respectable home for our guests. It also helps our guests with allergies and asthma breathe easier during their stay here, which can sometimes be several months!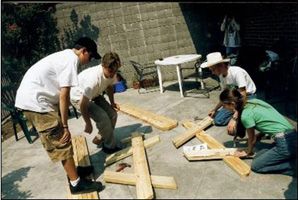 For more details about any of these volunteer opportunities, please contact the Director of Volunteer Services at 205-323-4277 or Deborah.everson@firstlightshelter.org. To express interest in any of these opportunities, please click on "volunteer interest form" and begin the inquiry process. Someone will be in touch with you as soon as possible.