Shelter Plus Care
First Light's reputation in the nonprofit community prompted the inception of our Shelter Plus Care program. We were asked to find funding for and begin a Shelter Plus Care program. This is a collaborative program combining the efforts of First Light, Pathways and the Jefferson County Housing Authority with First Light acting as the lead agency and providing the direct supportive services.
First Light has hired a Shelter Plus Care Social Worker as of Summer of 2007. This Social Worker is assigned the daunting tasks of:
Identifying women who may be qualified for the program (i.e. those who are homeless due to a disabling condition)

Helping these women apply for housing vouchers from the Housing Authority

Locating and filling out an application for an apartment that meets the qualifications of the program

Obtaining an inspection of the apartment

Moving in and setting up the household

Making sure the women do everything necessary to keep their apartment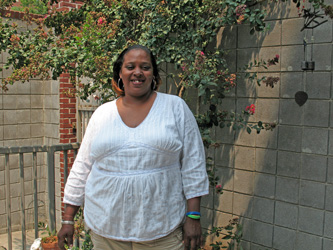 In our holistic approach to ending homelessness, we have learned that supportive services are the key to achieving deeper and longer-lasting effects. The women we encounter on a daily basis have an inner strength which, if nurtured, empowers them to make significant growth and change. It is to this end that the Social Worker directs all of her activities.
The Shelter Plus Care Social Worker conducts monthly Life Skills classes which the women in the program are required to attend. The Social Worker also makes regular home visits, phone calls and makes sure that the women recertify their housing vouchers each year.